We Supply
Efficiency
We exceed expectations with quality and on-time products, but our service doesn't stop there. We work efficiently with procurement, receiving, and accounting teams through proven processes.
We will customize our processes to fully integrate with yours. Our transactions will be the most accurate and easiest to process. We interchange your part numbers with ours. All of our quotes, packing lists, invoices and packaging can utilize your part numbers and even your descriptions. We quote, ship, and bill in your units of measure.
All of our documents and packages are fully barcoded with your data. We can include your FMR numbers, PO numbers, PO line numbers, and part numbers on every requested document and label.
Our document customization will lead to realized efficiencies in your procurement, receiving, and accounting processes.
Each pallet that we deliver has its own packing list detailing the contents of the pallet. No more sorting through multiple pallets trying to reconcile to a multi-page receiver. Our shipments fly through your receiving operation, so the products are quickly available to move where they are needed.
Our shipments and invoices are accurate, which reduces rework. Our customers are typically 97% current in their payables because our shipments are correct, received quickly, and easy to reconcile.
Direct Shipments
In the rare instances where we agree to ship direct from our manufacturer, we supply a direct-ship pack list prior to the product arriving that is identical to the pack list we use when we deliver.
Requisition to Receipt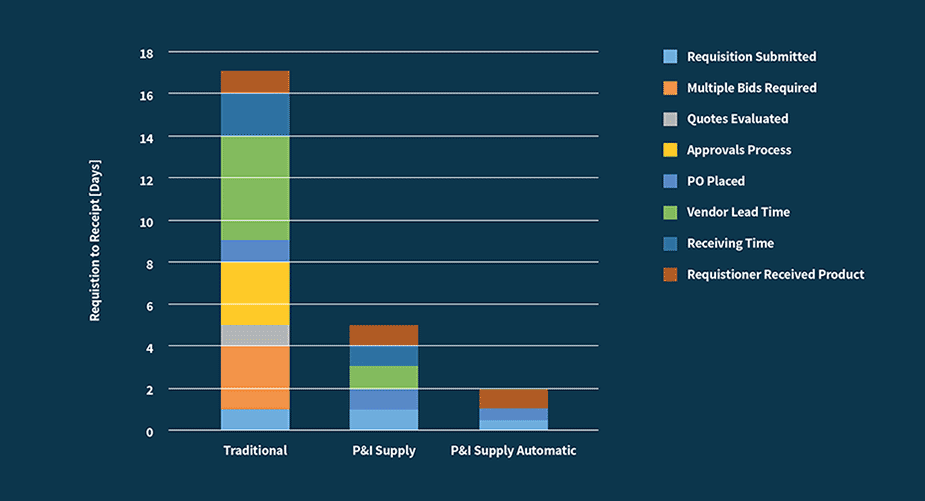 We understand that when your authorized users/requestors determine a need for product, their expectation of delivery begins when they submit their requisition. However, because your internal procurement process may include securing competitive bids, approvals, and receiving/reconciliation delays, it can take seventeen days or more before the product is delivered to the point of use.
A Preferred Vendor Blanket Agreement with P&I Supply can shorten your cycle to as few as two days. In many  cases, we can promise same day / next day service. Short lead times improve your productivity, and minimize the need for overbuying and hoarding.
The requisition timelines illustrate the total elapsed days from requisition to fulfillment to your end users, and the potential to reduce the duration from seventeen to five, to even as few as two days, using P&I as a preferred supplier.
eCommerce
Our eCommerce platform integrates with your ERP system including punchout capability. Your users can be directed to the blanket items your organization has on contract, and see real time pricing and product availability. 
We can make the, "Have you got it, and how much is it?" process less tedious. Our website is highly customizable, providing just the amount of data and security you want throughout your user base.