P&I Supply Recognized by Bechtel as a Top Supplier
Supply Chain Excellence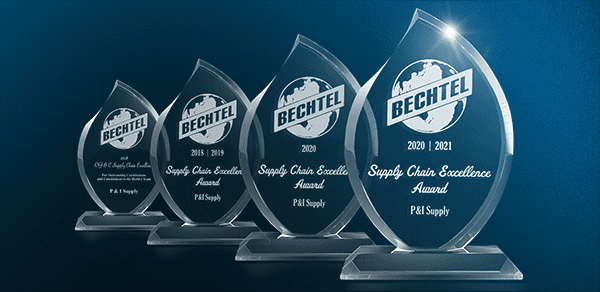 Evansville, IN — For a fourth consecutive year (2018-2021), P&I Supply has been recognized for its supply chain excellence when supporting Bechtel's U.S. construction projects.
The Bechtel Supply Chain Excellence Award honors reliable subcontractors and suppliers who supported Bechtel's work on projects around the world.
"The partnerships we have with our subcontractors and suppliers are fundamental in delivering projects to our customers," said Tarek Amine, Bechtel's Manager, Procurement & Contracts. "Collaboration with subcontractors and suppliers enhances our ability to align to our customers' goals, achieve their objectives, and deliver a lasting positive impact in the communities where we live and work."
"Bechtel continues to be a construction industry leader with high standards and world-class projects. P&I values our long-term relationship with Bechtel and their operating units," said Connor Stallings, Executive Vice President of P&I Supply. "The supply chain continued to be strained in 2021 and appears that 2022 will see the same. P&I is proud to be trusted by our customers to deliver on our promise of being the most Responsive, Dependable, and Capable distributor in the industry. This recognition from Bechtel, the fourth year in a row, is an honor that validates the hard work from our P&I team, the partnerships we have with manufacturers, and the success of our collaboration with Bechtel."
P&I is honored to be recognized for its ongoing work with Bechtel, especially amidst the COVID-19 Pandemic. P&I offers Bechtel same-day/next-day service of small tools, safety, welding, and consumable products at many jobsites across the United States.
For this award, companies were evaluated on multiple factors. They include: overall performance; the ability to deliver quality services/goods on time; the ability to work collaboratively to meet milestones; and meeting or exceeding project expectations in aspects of safety, delivery, construction performance, technical expertise, and environmental compliance. Nominations were reviewed and approved by Bechtel Supply Chain and Project Managers and senior leadership.
About P&I Supply
P&I Supply is a U.S. distributor of tools, safety, welding, and consumable products for large construction projects in the energy, petrochemical, civil, and oil and gas industries. As a multi-generational, family-owned business, P&I has met the ever-changing needs of their customers for over 70 years with a steadfast promise to be the most responsive, dependable, and capable supplier. Their promise is to deliver superior, customized service and the lowest price. www.pisupply.com
About Bechtel
Bechtel is a trusted engineering, construction and project management partner to industry and government. Differentiated by the quality of our people and our relentless drive to deliver the most successful outcomes, we align our capabilities to our customers' objectives to create a lasting positive impact. Since 1898, we have helped customers complete more than 25,000 projects in 160 countries on all seven continents that have created jobs, grown economies, improved the resiliency of the world's infrastructure, increased access to energy, resources, and vital services, and made the world a safer, cleaner place. 
Bechtel serves the Energy; Infrastructure; Nuclear, Security & Environmental; and Mining & Metals markets. Our services span from initial planning and investment, through start-up and operations. www.bechtel.com