P&I Supply Recognized by Bechtel as Top Supplier
Supply Chain Excellence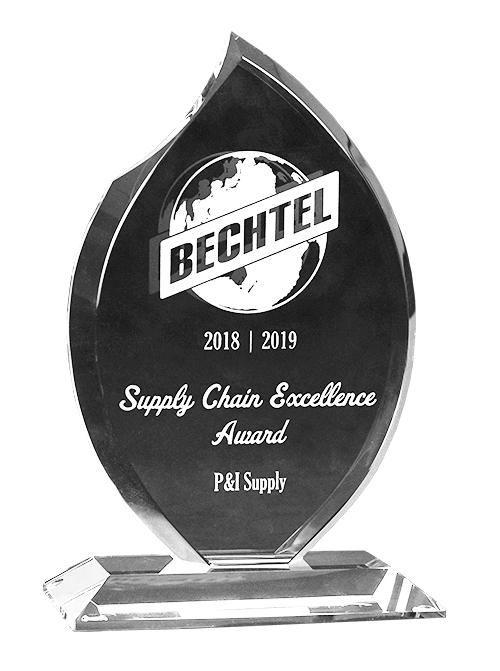 Evansville, IN - P&I Supply was recognized as a top supplier by Bechtel at the company's annual Supply Chain Awards for exceptional work on projects for several of Bechtel's global business units.
Companies were evaluated on multiple factors including: overall performance, ability to deliver quality services/supplies on time, ability to work collaboratively to meet milestones, and meeting or exceeding project expectations in aspects of safety, performance, technical expertise, and environmental compliance. Nominations were reviewed and approved by Bechtel procurement and project managers with final approval from senior leadership.
"Bechtel is consistently at the top of the industry, and it has been our pleasure and honor to be a valued partner with them over the years", said Bruce Stallings, President of P&I Supply. "P&I strives for continual improvement. With great partners like Bechtel that demand excellence at all levels, our businesses grow stronger together. Our dedication to be the most Responsive, Dependable, and Capable supplier in the industry is proven by genuine recognition like this."
P&I Supply has been a key supplier of small tools, safety, and consumables for Bechtel for over 12 years. They have worked with multiple business units within the Bechtel organization and on a variety of large construction projects across the United States.
"P&I Supply has been a vital partner to Bechtel, working with us to achieve outstanding results for our customers," said Al Hankins, Corporate Manager Procurement & Contracts. "The performance of key suppliers continues to be critical to delivering superior service to our customers and advancing innovation for the industry."
About P&I Supply
We supply tools, safety, welding, and rigging to the largest contractors for large-scale energy,  petrochemical, and oil & gas projects throughout the United States. We understand our customers' unique requirements for small tools, PPE, and consumables. Our service model and extensive inventory allows us to deliver same day or next day to project sites.
Our customers find that P&I Supply is the most Responsive, Dependable, and Capable supplier they do business with. Our promises are personal. Our answers are immediate.
Owned and managed by a second and third generation family, we have met the ever-changing needs of our customers since 1950.
About Bechtel
Bechtel is one of the most respected global engineering, construction, and project management companies. Together with our customers, we deliver landmark projects that foster long-term progress and economic growth. Since 1898, we've completed more than 25,000 extraordinary projects across 160 countries on all seven continents. We operate through four global businesses: Infrastructure; Nuclear, Security & Environmental; Oil, Gas & Chemicals; and Mining & Metals. Our company and our culture are built on more than a century of leadership and a relentless adherence to our values, the core of which are safety, quality, ethics, and integrity. These values are what we believe, what we expect, what we deliver, and what we live.