P&I honored for its outstanding contribution and commitment
Supply Chain Excellence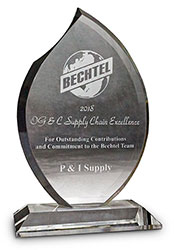 Evansville, IN — P&I Supply was recognized for its supply chain excellence when supporting Bechtel's Oil Gas and Chemicals projects.
The Bechtel Supply Chain Recognition Awards celebrate subcontractors and suppliers who supported Bechtel's work on projects around the world during 2018.
"Working collaboratively with our supply chain is critical for us to deliver successful project for our customers around the world," said Gerry O'Connor, Bechtel's OG&C Manager of Procurement and Contracts. "Working with suppliers that are committed to providing quality products and superior service enables us to provide enhanced outcomes for our customers."
"P&I Supply is proud to be honored by our long-time partner and customer Bechtel OG&C," said Connor Stallings, P&I's Vice President of Marketing and Supply Chain. "Our two organizations have worked hard to optimize the supply chain and ultimately deliver the best experience possible in the field. P&I is committed to continuing the excellent service and partnership and striving to further advance the customer experience in our space. This award would not have been possible without the efforts of the entire P&I team, our manufacturer partners and our supportive customer, Bechtel OG&C. We believe this award exemplifies our company's guiding principle - to be the most Responsive, Dependable, and Capable supplier in the industry."
P&I has been recognized for its work in South Texas at the CCLNG facility, especially its support immediately following Hurricane Harvey. P&I offers Bechtel same-day/next-day service of small tools, safety, welding, and consumable products at many jobsites across the United States.
Companies were evaluated on multiple factors. They include: overall performance; the ability to deliver quality services/supplies on time; the ability to work collaboratively to meet milestones; and meeting or exceeding project expectations in aspects of safety, construction performance, technical expertise, and environmental compliance. Nominations were reviewed and approved by Bechtel procurement and project managers. Final recommendations were approved by senior leadership.
About P&I Supply
We supply tools, safety, welding, and rigging to  the largest contractors for large-scale energy,  petrochemical, and oil & gas projects throughout the United States. We understand our customers' unique requirements for small tools, PPE, and consumables. Our service model and extensive inventory allows us to deliver same day or next day to project sites.
Our customers find that P&I Supply is the most responsive, dependable, and capable supplier they do business with. Our promises are personal. Our answers are immediate.
Owned and managed by a second and third generation family, we have met the ever-changing needs of our customers since 1950.
www.pisupply.com
About Bechtel
Bechtel is one of the most respected global engineering, construction and project management companies. Together with our customers, we deliver landmark projects that foster long-term progress and economic growth. Since 1898, we've completed more than 25,000 extraordinary projects across 160 countries on all seven continents. We operate through four global businesses: Infrastructure; Nuclear, Security & Environmental; Oil, Gas & Chemicals; and Mining & Metals. Our company and our culture are built on more than a century of leadership and a relentless adherence to our values, the core of which are safety, quality, ethics, and integrity. These values are what we believe, what we expect, what we deliver, and what we live.
www.bechtel.com